Student accommodation provider Downing buys gasworks site

The now derelict Hunt Trucks garage on Armoury Way
Downing Developments, the Liverpool-based construction and property management company, is to redevelop the large site on the corner of Armoury Way and Swandon Way formerly occupied by Hunt Trucks and a gasholder.
Perhaps best known as a student accommodation provider for universities across the UK - including Exeter, Newcastle, London, Edinburgh and Liverpool – Downing's projects have also included the multi million pound restoration of the Grade 2 listed Port of Liverpool Building and Leeds University's Beckett Creative Arts Building.
The construction group has yet to announce its plans for the Swandon Way site, although the gasholder has already been decommissioned and is in the process of being dismantled.
Iin 2001 St James's Investments, the now defunct building and property management company, applied to redevelop the site as a café and leisure quarter with a riverside foot and cycle path, car parking and thirty-five new living spaces. The application was withdrawn.
Similarly, in 2003 a planning application from Tesco Ltd for a food store, tyre fitting and motor trade units, car parking and a residential development of 455 apartments, was also withdrawn.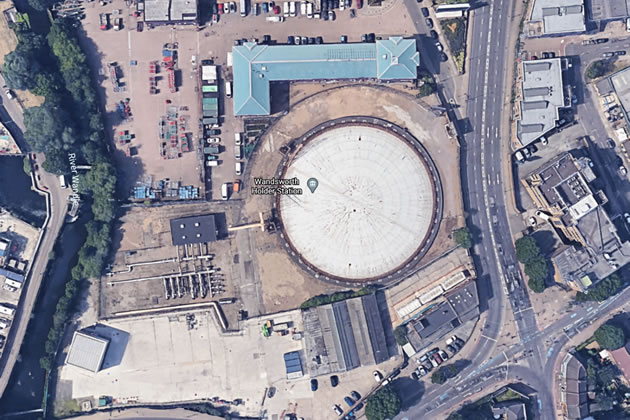 Gasworks and garage site on corner of Swandon and Armoury Way. Picture: Google Earth
According to The Wandsworth Local Plan, which was drawn up in 2018 and sets out the Council's 'spatial vision for Wandsworth', the site is 'sensitive to tall buildings', which in this location is considered to be tall at five storeys. Any application for tall buildings will not be permitted to overshadow the Wandle or Bell Lane Creek which run to the east of the site.
October 13, 2020