Volunteers Needed To Help Combat Loneliness In The Elderly
---
Wandsworth resident calls on community-minded individuals to help raise awareness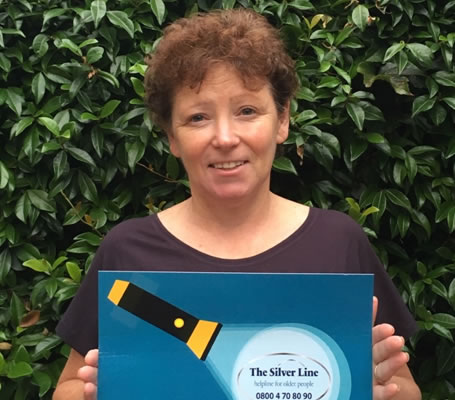 Gwen Wild
Gwen Wild, who lives in Wandsworth, is the local area volunteer manager for The Silver Line charity which is the only free, national confidential telephone helpline for older people. It's open round the clock, 365 days a year. However the charity believes that not enough of London's older adults know it exists, and Gwen is trying to raise awareness of the service.

"I want to make sure that the older generation in London and the surrounding area don't feel isolated and this will only be achieved if we raise awareness of the helpline," said Gwen.
Gwen coordinates a team of people who work in the community to ensure that the impact of loneliness is understood. One of the key aims is to ensure that people such as care professionals, shopkeepers and postal workers - who are all regularly in contact with older people - understand the issue and are able to direct people towards The Silver Line. So she is now seeking London-based community engagement volunteers willing to raise awareness of the work and services provided by the charity.
"The Silver Line was founded by Dame Esther Rantzen to give older people a place to call offering information, advice and friendship. We receive hundreds of calls each day, many of them from people who feel totally isolated and alone," Gwen continues.

"I want to make sure that older people know there is somewhere they can turn. Let's make sure that people know we're here any time they need us. Let's shine a light on The Silver Line."
If you are passionate about improving the lives of older people in the community and feel that you could help to 'shine a light on The Silver Line' find out more on their web site.

The charity also relies entirely on donations to keep its helpline going, you can find details of how to donate here.
September 20, 2019