Is Council Tree Surgery Doing More Harm Than Good?
---
Wandsworth Tree Warden Network concerned canopy removal will increase pollution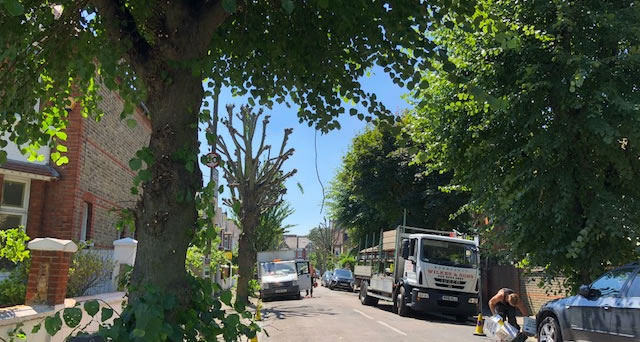 Tree surgery under way

Wandsworth's Tree Warden Network is claiming that the current pruning of street trees throughout the borough is bad for our health.

Mary-Claire Mason, one of the tree wardens, cites Weiss Road (pictured below) as an example of what is happening in the borough. Mary-Claire says, "This was a green, tree-lined street last week. Then the trees were pruned a couple of days ago. Now look at it, a street stripped pretty much of green."


She continues, "The recent discussion paper published by Wandsworth Tree Warden Network entitled 'A 21st Century Tree Strategy for Wandsworth' sets out how trees protect our health. The green summer canopy, for instance, is important because it cleans the air for us. Removing it when we most need it is a policy which has to be urgently revised.

"Wandsworth Tree Warden Network wants the Council to ensure that tree pruning takes place in the autumn/winter period…any extra cost would be outweighed by the public health benefits."

We have asked the Council and an independent tree surgeon to comment and will update upon receipt.
July 3, 2018