Fleur Anderson intervenes in attempt to save 12,000 British Airways jobs



BA planes going nowhere at Bournemouth Airport - www.facebook.com/FerndownGC
Time is running out for BA staff across Putney who are facing either job loss or forced changes to their contracts by being fired and hired.
Labour MP for Putney, Roehampton and Southfields, Fleur Anderson has written to the Prime Minister and the Chief Executive of International Airlines Group (IAG) urging them to U-turn the planned redundancy of 12,000 British Airways staff.
IAG – BA's parent company – announced in May plans to make 12,000 staff redundant, and 'fire and rehire' a further 30,000 staff members on up to 70% less pay than before. This includes all 4,300 BA pilots, including many who live locally.
The surprise move came weeks after the firm had agreed with Unions to furlough 30,000 staff members. Other IAG airlines Iberia, Vuelling and Level are saving their staff and show that BA could have a different approach.
Speaking on the developments, Ms Anderson said: "These proposed redundancies are a complete scandal. Some of my constituents have worked for BA for nearly 20 years and now they have thrown onto the scrapheap. Not only that, it renders their initial use of the furlough scheme a complete waste of taxpayers money and runs completely counter to the spirit of the economic support package. Mr Walsh has failed to convince me that this move is justified – especially now the CJRS has been extended until October"
"Should British Airways get away with this "fire and hire" approach, there is a real danger that more UK companies will follow their lead – ruining more livelihoods and delaying the recovery of the United Kingdom economy even further."
The plan has been met with deep anger and resistance from MPs from all parties, Trade Unions - and the Conservative chair of the Transport Committee, Huw Merriman.
In her letter to Mr Walsh, Ms Anderson implored IAG to put the livelihoods of BA's hard-working staff at the forefront of its COVID-19 survival strategy, and harness the support available from the Government's Coronavirus Job Retention Scheme (CJRS).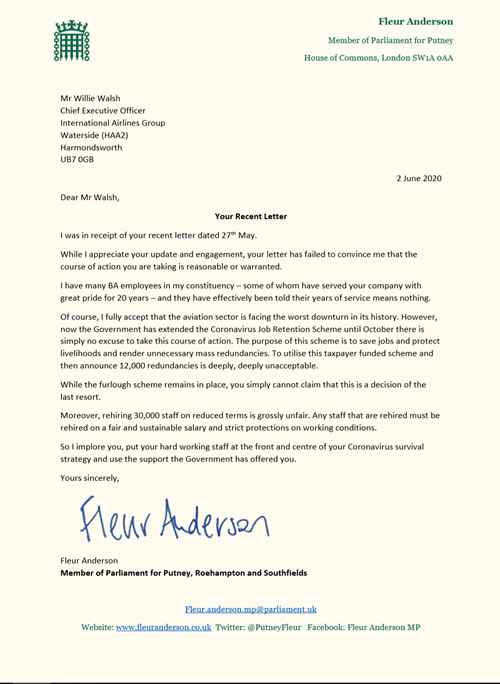 In a separate letter to Boris Johnson, Ms Anderson called upon the Prime Minister to direct IAG to reconsider use of the CJRS to protect staff salaries until October, rather than making staff redundant, conduct a complete review of the flight 'slot' allocation at UK airports and in particular Heathrow and encourage BA to ensure that consultation arrangements, and the imposition of new terms and conditions for staff, are agreed with the relevant Trades Unions.
In his response to Ms Anderson, Mr Walsh asserted that the restructuring was unavoidable if they were to survive given the financial situation facing BA. He said: "The proposals are designed to address the immediate crisis, resize the company in the face of a massive decline in demand and ensure the business can survive in a radically changed environment."
However, despite this claim IAG have agreed to purchase rival airline Air Europa for over €1billion. Additionally, BA's cash reserves and deposits stood at £2.6bn and shareholder equity £5.8bn in 2019.
This has prompted Conservative Chair of the Transport Committee, Huw Merriman, to state: "this does not appear to accord to the actions of a company on the verge of bankruptcy…This could be deemed a more secure business than others who are not taking such drastic cuts to workforce jobs and terms and conditions"
British Airways has set a deadline of June 15 to complete consultations with its unions and says it is still considering ways to mitigate or reduce the job losses. An agreement has yet to be reached.
June 11, 2020